FloorWorks Inspection Services is a professional independent, nationally certified, flooring inspection and consulting company. FloorWorks Inspection Services offers flooring inspection, consulting, and testing for: Hardwood Flooring (Solid and Engineered), Carpet, Laminate Flooring, Ceramic Tile, Natural Stone Flooring, Vinyl Tile and Sheet Flooring, and Rubber Tile and Sheet Flooring.
Flooring inspection and consulting services are provided to manufacturers, distributors, retailers, installation professionals, attorneys, architects, designers, insurance companies, general contractors, cleaners, and consumers/end users. A list of our larger clients is available on our client list page, and a list of some of the larger commercial sites we have inspected is also available.
We service Northeast Ohio and Western Pennsylvania, plus portions of western New York, Michigan, Kentucky, West Virginia, and Indiana.
Our company derives its income from flooring inspections, corrections, and expert testimony. We provide our clients professional and unbiased opinions of their flooring issues. FloorWorks Inspection Services has been providing objective, analytical, and ethical services to the flooring industry since 1995.
FloorWorks Inspection Services is owned by Andrew Fronczek. He is a second-generation flooring professional with over 35 years in the industry. He is certified through NWFA, Inspector Training Services (ITS), FCITS, IICRC, NALFA, IAWFP, Stone Forensics, and WoolSafe.org.
Andrew serves on the Board of Directors for the NICFI (National Independent Flooring Inspectors Association) as the treasurer. He is also on the board of the Floor Education Guild, and is a NWFA Certification Reviewer.
In addition to inspection and consulting services, moisture testing and various corrective services are available.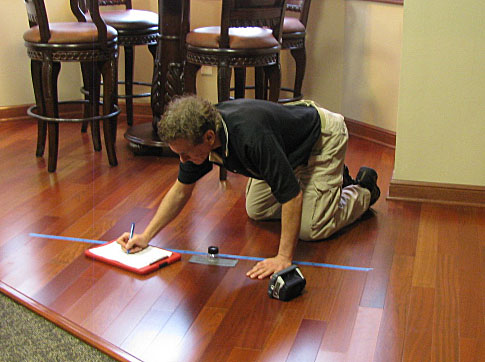 objective analytical ethical